Steal This Comic: Hvorfor kopibeskyttelse (DRM) ikke virker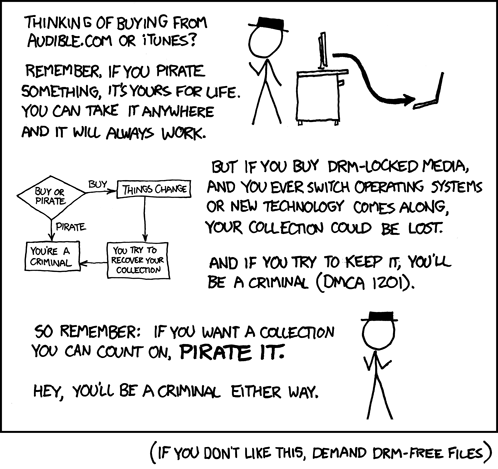 Note:
DRM = "Digital Rights Management" = kopibeskyttelse.
Tegnerens kommentar for enden af linket: "
I spent more time trying to get an audible.com audio book playing than it took to listen to the book. I have lost every other piece of DRM-locked music I have paid for.
"
Link:
Steal This Comic
.
[ agger, Tue 14 Oct, :13:04: /tegneserier] - 0 kommentar(er) - link
Skriv kommentar:
Angiv linjeskift ved <br> eller <p>. Du kan formattere teksten med <i>...</i> (
kursiv
) eller <b>...<b> (
fed
), ligesom du kan angive links med <a href="http://dit.link">...&lt/a>. Andre HTML-tags kan ikke bruges.
Feltet "URL/Email" skal udfyldes, men du må gerne "camouflere" dig, hvis du ikke vil skrive din rigtige adresse.
ANTI-SPAM
: Sæt et flueben i checkboxen for at angive, at du er et menneske og ikke en spamrobot.