Goya: Fornuftens søvn skaber monstre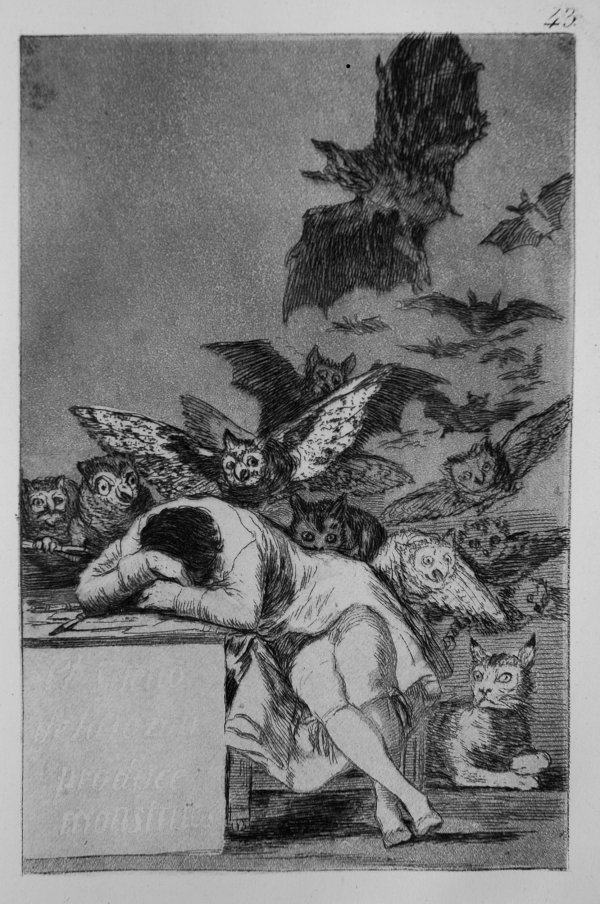 El sueño de la razón produce monstruos
, af Francisco de Goya y Lucientes (1746-1828).
Spaightwood Galleries
citerer i deres katalog
Aldous Huxley
for denne karakteristik af billedet i sammenhæng med Goyas senere værker:
These creatures who haunt Goya's later works are inexpressibly horrible, with the horror of mindlessness and animality and spiritual darkness. And above the lower depths where they obscenely pullulate is a world of bad priests and lustful friars, of fascinating women whose love is a 'dream of lies and inconstancy,' of fatuous nobles and, at the top of the social pyramid, a royal family of half-wits, sadists, Messalinas and perjurers.

The moral of it all is summed up in the central plate of the Caprichos, in which we see Goya himself, his head on his arms, sprawled across his desk and fitfully sleeping, while the air above is peopled with bats and owls of necromancy and just behind his chair lies an enormous witch's cat, malevolent as only Goya's cats can be, staring at the sleeper with baleful eyes. On the side of the desk are traced the words, 'The dream [or 'sleep'] of reason produces monsters.
[ agger, Sat 30 Dec, :19:55: /billeder] - kommentar(er) - link