Nordvestpassagen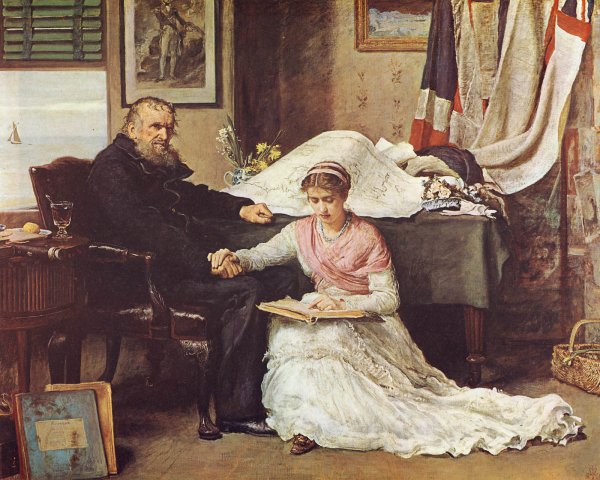 Af
John Everett Millais
(1829-1896).
Den gamle mand på billedet er Edward John Trelawny (1792-1881), hvis største
claim to fame
var hans forbindelse til digterne Shelley og Byron i årene før deres død; en farverig, men uvenlig beskrivelse lyder:
After a tumultuous childhood and youth, Trelawny bullied his way into the circle of Romantic poets in Italy. There he designed the boat that drowned Shelley on its maiden voyage, abandoned Byron in Greece to be bled to death by an incompetent physician, and survived an assignation attempt. He then returned to England to regale an entire generation with such tall tales as Adventures of a Younger Son and Records of Shelley, Byron, and the Author.
På billedet ses den 82-årige Trelawny i rollen som den gamle søulk, han aldrig var, men gerne iscenesatte sig selv som. Den unge kvinde på billedet er Trelawnys datter Laetitia.
[ agger, Thu 17 Jan, :09:44: /billeder] - kommentar(er) - link