Omkara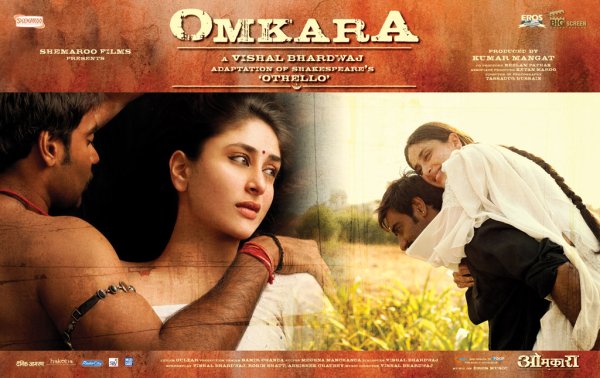 Omkara
- Shakespeares
Othello
genfortalt som moderne indisk spaghettiwestern.
Nærmere omtale følger - indtil videre blot denne plakat.
Jeg faldt også over følgende på filmens
officielle hjemmeside
:
Omkara or Omi is a gifted chieftain who heads a gang of outlaws, which include the crafty Langda Tyagi and the dynamic Kesu amongst his chief cohorts. The story begins when Omi appoints Kesu and not Langda as his chief lieutenant. Langda's pride is slighted and raging with envy, he hatches a plot to falsely implicate Omi's beautiful fiancé Dolly, in an illicit affair with Omi's "favourite lieutenant", Kesu. Using petty insinuations and lies, Langda keeps poisoning Omi's mind till one day he snaps and goes amok tearing up his secure world, leading up to a horrific tragedy at the end of which Omi realizes the backlash of his actions; but is it too late…?
At se den før din nabo var jo nok ikke det
aller
dummeste, du kunne gøre ...
[ agger, Thu 19 Oct, :16:36: /billeder] - kommentar(er) - link