Rabbiner: Lemlæst børnenes bamser...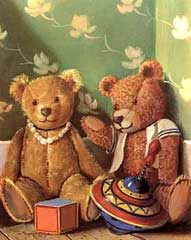 eller Gud vil straffe dig for afgudsdyrkelse.
Læser vi i hvert fald
, og det er ikke nogen aprilsnar:
In a tough break for the children of Orthodox Jewish families, a former grand rabbi of Israel has urged parents to amputate their dolls to avoid the perils of idolatry.

Basing the move on a Biblical ban on the possession of idols, Mordechai Eliyahu, a Sephardic rabbi, broadcast his edict on a religious radio station calling for an arm or a leg to be dismembered.

In the case of a teddy bear or other stuffed animals, the children will see their beloved toys lose an ear or an eye instead.
(...)
His son, Shmuel Eliyahu, himself a rabbi in the northern town of Safed, said that it was inappropriate to own statues or dolls, even to play with or for artistic purposes.

"They need to be amputated or at least altered," he said.
Nu er det jo godt nok kun umælende ting, det retter sig imod, så måske skulle man ikke besvære sig - men umiddelbart forekommer det mig ikke at være en god ting at lære børn. Hvis det endelig skulle være på den måde, tror jeg meget var vundet ved ikke at give dem nogen bamser fremfor demonstrativt at give dem én, der er lemlæstet ...
[ agger, Wed 05 Apr, :15:45: /diverse] - kommentar(er) - link