Verdens mindste politiske quiz
Hvor står du, rent politisk?
Dette her
er en meget hurtigt overstået quiz til at afgøre dét spørgsmål - alt, hvad du skal gøre, er at svare på 10 spørgsmål og trykke på en knap!
Dit standpunkt præsenteres ikke blot på en traditionel højrevenstre-akse, men indtegnes som en rød prik på et politisk landkort.
Mit eget resultat er herunder - indehaveren af denne weblog udnævnes til at være (tada...)
LIBERAL
, i betydningen:
LIBERALS usually embrace freedom of choice in personal matters, but tend to support significant government control of the economy. They generally support a government-funded "safety net" to help the disadvantaged, and advocate strict regulation of business. Liberals tend to favor environmental regulations, defend civil liberties and free expression, support government action to promote equality, and tolerate diverse lifestyles.
Now who'd have thought ...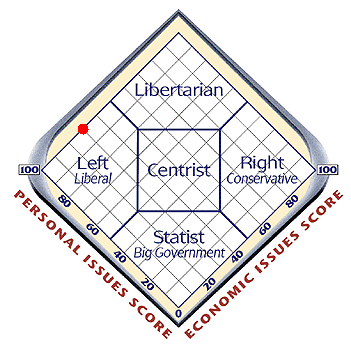 [ agger, Thu 06 Apr, :20:45: /diverse] - kommentar(er) - link