dyne:bolic og RastaSoft - igen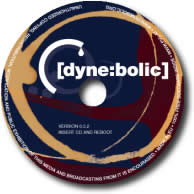 For snart et år siden
skrev vi om
Linux-distributionen
dyne:bolic
, som er en multimedie-distribution baseret på Live-CD-konceptet.
Det vil sige, at man ikke behøver at installere systemet på sin harddisk: Det kører i stedet fra en CD, som indeholder al den software, man har brug for, for f.eks. at kunne redigere og udsende direkte radio eller TV på Internettet.
Dengang citerede vi distributionens bagmand
Jaromil
for denne forklaring af baggrunden for netop en sådan distribution:
This software is for all those who cannot afford to have the latest expensive hardware to speak out their words of consciousness and good will. This software has a full range of applications for the production and not only the fruition of information, it's a full multimedia studio and has nothing to envy to other proprietary systems, because freedom and share of knowledge are solid principles for evolution and that's where this software comes from.

In the panorama of existing operating systems we see that there is a great number of possibilities to listen: all kinds of "free to download" players for audio and video, but no easy way for everybody to speak out loud and spread their words. The way communication is structured follows the hierarchy of powers already established in babylon's mediascapes and, worse than ever, money is the main requirement for making a voice spread and possible to be heard by others.

Neverthless, proprietary software spreads the dependence from business companies thru the populace: whenever we share our knowledge on how to use a certain software, we make the people in need to buy the tools from merchants in order to express their creativity.
Nuvel, grunden til at vi vender tilbage til det nu, er at den næste version af
dyne:bolic
er på trapperne - man kan
downloade en næsten færdig release-kandidat
på distributionens hjemmeside.
Indtil videre ser det godt ud med nye versioner af Internetbrowser, mailprogrammer og lyd- og videoredigeringsbærktøjer - stadig pakket ind i et ikke-krævende vinduesmiljø, der kører perfekt på gamle maskiner.
Alt i alt tilsyneladende stadig en distribution, der tillader folk at lave store ting for få eller ingen penge - ikke det dårligste udgangspunkt for et system, hvis hele formål er at hjælpe ubemidlede aktivister i gang.
Nærmere omtale følger, når den nye version (forhåbentlig snart) frigives officielt.

     while ( love & passion ) {
       for( fight = 0 ; rights < freedom ; rights++ )
         fight = standup( rights );
       free( babylon );
     }

[ agger, Sat 06 May, :11:06: /itpolitik] - kommentar(er) - link