Legal Guide for Bloggers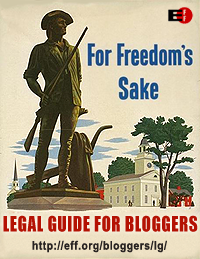 Electronic Frontier Foundation
har lavet en
juridisk vejledning
for bloggere, der beskriver de juridiske caveats, der kan opstå for bloggere (ophavsret/injurier/kildebeskyttelse/the works), og de rettigheder, man har som nyhedskilde og kommentator - en vejledning, der er direkte relevant for bloggere, men som formentlig kan være værdifuld for alle indehavere af en hjemmeside med et i en eller anden forstand kontroversielt indhold.
Guidens formål beskrives smukt i indledningen:
Like all journalists and publishers, bloggers sometimes publish information that other people don't want published. You might, for example, publish something that someone considers defamatory, republish an AP news story that's under copyright, or write a lengthy piece detailing the alleged crimes of a candidate for public office.

The difference between you and the reporter at your local newspaper is that in many cases, you may not have the benefit of training or resources to help you determine whether what you're doing is legal. And on top of that, sometimes knowing the law doesn't help - in many cases it was written for traditional journalists, and the courts haven't yet decided how it applies to bloggers.

But here's the important part: None of this should stop you from blogging. Freedom of speech is the foundation of a functioning democracy, and Internet bullies shouldn't use the law to stifle legitimate free expression. That's why EFF created this guide, compiling a number of FAQs designed to help you understand your rights and, if necessary, defend your freedom.
Guiden tager udgangspunkt i amerikanske forhold og amerikansk lovgivning, men gælder - som almen vejledning - i alle vestlige lande. Som introduktion til, hvad man kan - hvilke ubehagelige, truende breve man kan og bør arkivere lodret - hvilke rammer, man bør holde sig indenfor - og hvilke rettigheder, man er garanteret, er den ganske givet et kig værd.
[ agger, Sun 10 Jul, :23:02: /itpolitik] - kommentar(er) - link