Star Wars III på nettet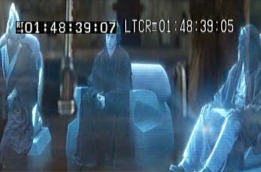 Det er tilsyneladende allerede muligt (men ikke lovligt) at finde den nye Star Wars-film på nettet. Den lader til at være lækket fra selve filmselskabet, hvilket inspirerer Cory Doctorow fra
BoingBoing
til nedenstående svada:
Workprints leak from studios. The studios are trying to lock down what customers do with DVDs and cable TV and PCs, but they can't even keep their own house in order. They've got laws that allow them to get your name from your ISP and to sue you into bankruptcy for file-sharing. They've got laws to criminalize the math to defeat DRM. They're after laws to let them design TVs and camcorders.

None of those laws, measures or policies will stop files like this from circulating on the Internet. Don't take my word for it, read what Microsoft's leading DRM engineers have to say about it.

But that's OK, because Star Wars III will make a metric crapload of money, no matter how many copies are downloaded from the Internet. Hell, the licensing deals alone have already recouped the cost of production, before the first ticket was sold.

The studios don't have a problem with downloading. There's plenty of downloading, but there's no problem ...
Og noget kan der vel være om det: Selvfølgelig vil pladeselskaber og filmstudier gerne beskytte deres rettigheder, men denne konstante kamp for at forhindre kopiering og indførelse af låse i CD-afspillere, kameraer, regionskoder og kopibeskyttelse i DVD-film osv., osv., osv., er dybest set bare en håbløs kamp mod en teknologi, der ikke kan stoppes, fordi den er alt, alt for let at bruge. Jfr. de omtalte Microsoft-medarbejderes
Darknet-rapport
.
[ agger, Thu 19 May, :13:35: /itpolitik] - kommentar(er) - link