9/11 Conspiracy Theories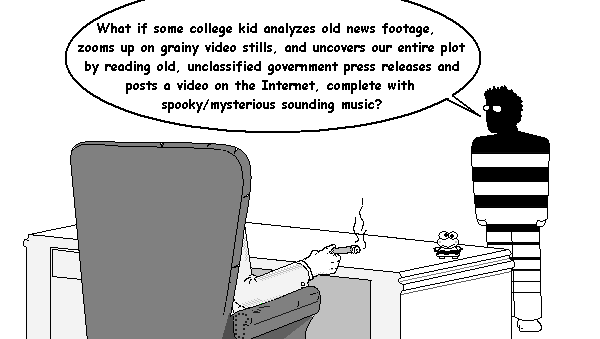 The Best Page In The Universe
siger det ret udiplomatisk:
Since Dylan [Avery, maker of the conspiracy theory film Loose Change] is arguing that the government has no problem killing 3,000 innocent people, this raises the question: if his documentary is true, and we've established that the government has no ethical qualms about killing thousands of its own people, then why wouldn't the government kill Avery and his friends as well? What's a few more lives to them to ensure the success of this conspiracy?

Whatever reason it may be that the government supposedly orchestrated this conspiracy, it must have been worth it to them to cause so much suffering and loss of life. So if there's any truth to this, then you can bet your ass that the government wouldn't let a couple of pecker-neck chumps with a couple of Macs and too much time on their hands jeopardise their entire operation by letting this stupid video float around on the Internet.
Og det forekommer mig at være generelt det største problem ved alle disse konspirationsteorier: De kan lyde besnærende ved første øjekast, men vikler sig hurtigere ind i langt mere fantastiske konstruktioner end den enkle, at angrebet 11. september skete som det blev fortalt og fangede supermagten totalt uforberedt - hvilket der i øvrigt er mange gode grunde til (herunder, at vi taler om et land, der aldrig tidligere er angrebet militært på sit eget fastland).
Hvis man gerne vil læse videre, kan filmen
Loose Change
ledsages af en
Loose Change Viewer
, der forsøger at supplere filmens oplysninger.
Herudover er der den berømte
artikel i Popular Mechanics
, der giver den i mine øjne hidtil bedste gennemgang af de videnskabelige og ingeniørmæssige aspekter af angrebet, samt hjemmesiden
911myths.com
, der forsøger omhyggeligt og neutralt at gennemgå de forskellige fakta og modstridende oplysninger om 11. september:
The web is full of sites covering various conspiracy theories. Many seem well-researched, and appear to have plenty of detailed documentation to prove their claims. But are they really true? We don't know, but one good way to start is by checking a few claims for yourself. We tried that with a number of 9/11 sites, with surprising results. Many of the "facts" we read were distorted, or simply wrong. Quotes were routinely taken out of context. Relevant information was often ignored. And much of this could be discovered with a minimum of online research.

Whatever you believe about 9/11, the spreading of false claims helps no-one, and we'd like to play a small part in revealing some of them. We're not about debunking entire conspiracies, then, but will use this site to zoom in on what we think are the more dubious stories, revealing the misquotes, the distortions, the inaccuracies that are so common online.

But does this make us an authority? No. If we've an overall message here, it's check things for yourself.
Anbefales
- hvis du er i tvivl, eller blot nysgerrig.
[ agger, Fri 08 Sep, :11:15: /politik] - kommentar(er) - link