Ægyptisk blogger idømt fire års fængsel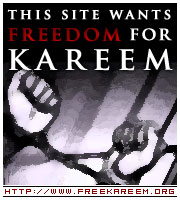 Vi har
tidligere
omtalt sagen om den ægyptiske blogger
Abdel Kareem Nabil Soliman
.
Sagen har nu fået et udfald, der formentlig kommer til at danne et skidt fortilfælde for ytringsfriheden i Ægypten såvel som i de arabiske lande generelt (og nok skal gøre en del arabiske og især ægyptiske bloggere nervøse), idet Kareem er idømt fire års fængsel for at kritisere bl.a. Ægyptens præsident Mubarak og landets islamiske universiteter.
BBC skriver
:
Abdel Kareem Soliman's trial was the first time that a blogger had been prosecuted in Egypt.

He had used his web log to criticise the country's top Islamic institution, al-Azhar university and President Hosni Mubarak, whom he called a dictator.

A former student at al-Azhar, he called the institution "the university of terrorism" and accused it of suppressing free thought.

A human rights group called the verdict "very tough" and a "strong message" to Egypt's thousands of bloggers.
Via
The Arabist
- se også
pressemeddelelsen om sagen
hos
FreeKareem.org
.
[ agger, Thu 22 Feb, :16:32: /politik] - kommentar(er) - link