Irak i dag: Besættelse, kidnapning, voldtægt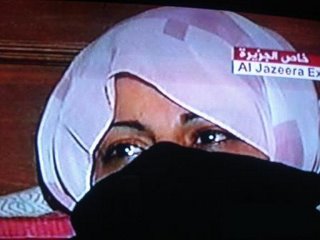 Riverbend
fortæller historien om den irakiske kvinde
Sabrine Al-Janabi
, der blev voldtaget af vore hjertevenner og trofaste allierede, de uundværlige amerikansk trænede irakiske "sikkerhedsstyrker":
As I write this, Oprah is on Channel 4 (one of the MBC channels we get on Nilesat), showing Americans how to get out of debt. Her guest speaker is telling a studio full of American women who seem to have over-shopped that they could probably do with fewer designer products. As they talk about increasing incomes and fortunes, Sabrine Al-Janabi, a young Iraqi woman, is on Al Jazeera telling how Iraqi security forces abducted her from her home and raped her. You can only see her eyes, her voice is hoarse and it keeps breaking as she speaks. In the end she tells the reporter that she can't talk about it anymore and she covers her eyes with shame.

She might just be the bravest Iraqi woman ever. Everyone knows American forces and Iraqi security forces are raping women (and men), but this is possibly the first woman who publicly comes out and tells about it using her actual name. Hearing her tell her story physically makes my heart ache. Some people will call her a liar. Others (including pro-war Iraqis) will call her a prostitute- shame on you in advance.

I wonder what excuse they used when they took her. It's most likely she's one of the thousands of people they round up under the general headline of 'terrorist suspect'. She might have been one of those subtitles you read on CNN or BBC or Arabiya, "13 insurgents captured by Iraqi security forces." The men who raped her are those same security forces Bush and Condi are so proud of- you know- the ones the Americans trained. It's a chapter right out of the book that documents American occupation in Iraq: the chapter that will tell the story of 14-year-old Abeer who was raped, killed and burned with her little sister and parents.

They abducted her from her house in an area in southern Baghdad called Hai Al Amil. No- it wasn't a gang. It was Iraqi peace keeping or security forces- the ones trained by Americans? You know them. She was brutally gang-raped and is now telling the story. Half her face is covered for security reasons or reasons of privacy. I translated what she said below ...
Mon ikke der efterhånden skal meget væsentlige "psykosociale" faktorer til, for at nogen kan blive ved med at hævde, at invasionen og besættelsen af Irak har ført noget som helst godt med sig?
Riverbend er ikke i tvivl og afslutter med denne salut:
Americans in America are still debating on the state of the war and occupation- are they winning or losing? Is it better or worse.

Let me clear it up for any moron with lingering doubts: It's worse. It's over. You lost. You lost the day your tanks rolled into Baghdad to the cheers of your imported, American-trained monkeys. You lost every single family whose home your soldiers violated. You lost every sane, red-blooded Iraqi when the Abu Ghraib pictures came out and verified your atrocities behind prison walls as well as the ones we see in our streets. You lost when you brought murderers, looters, gangsters and militia heads to power and hailed them as Iraq's first democratic government. You lost when a gruesome execution was dubbed your biggest accomplishment. You lost the respect and reputation you once had. You lost more than 3000 troops. That is what you lost America. I hope the oil, at least, made it worthwhile.
[ agger, Wed 21 Feb, :10:40: /politik] - kommentar(er) - link