No Comments?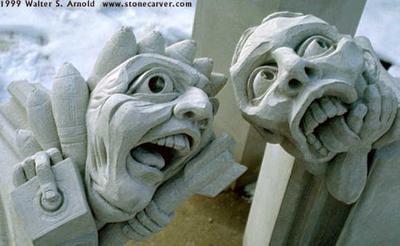 Jeg har længe spekuleret frem og tilbage, om jeg skulle anskaffe mig en "rigtig" kommentarsektion eller ej.
Det kunne selvfølgelig være spændende med forum-agtige diskussioner om de enkelte indlæg, men hvad med kommentarspam for slet ikke at tale om diverse papnakker og wingnuts, hvis udgydelser jeg kunne ende med at skulle bruge for meget tid på at læse, svare på og af og til slette?
Raed in the Middle
har efter tilsvarende (men noget mere alvorlige) overvejelser besluttet at
lukke
sin kommentarsektion:
My decision came after weeks of trying to stop abusive comments, and to "police" the comments section in the help and support of Niki and Sahir.

Sahir sent us a link to a news story today that apparently had the final say for our comments section discussions...

Blogger Faces Lawsuit Over Comments Posted by Readers.

If this small Internet company can sue a blogger for comments left by a mad customer, if the "Iraqi" puppet government can kidnap my brother for two weeks to question him about some comments left our blogs, I don't want to know what the bush administration would do to me if someone left a comment on my blog saying "terrorism rocks" or some pro-violence statement...

Abu-Ghraib me? or Guantanamo me?

I can't be responsible of all of the hundreds of comments that are posted here daily, and I don't want to dedicate all of my time "policing" the comments section.
Så måske det er meget godt, at jeg stadig ikke rigtig har taget mig sammen til at udforske de nærmere teknikaliteter i
Blosxom
s kommentarplugins ...
Du er altid velkommen til at sende en kommentar, men indtil videre må disse gå den lidt langsommere email-vej.
[ agger, Sun 11 Sep, :22:33: /politik] - kommentar(er) - link