Opfør dig ordentligt, eller ...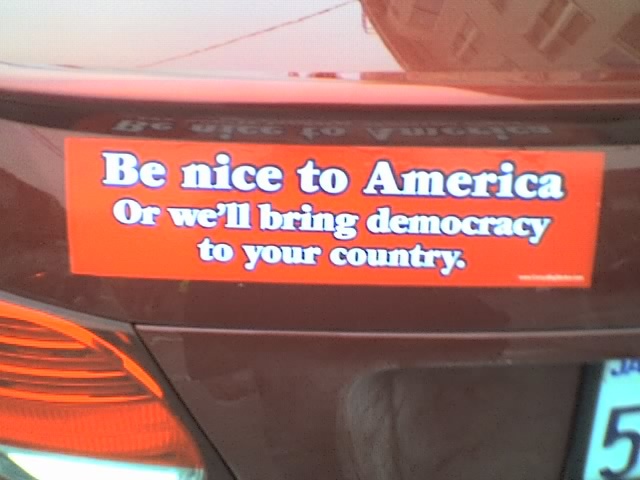 Set på
NowThen
via
Glazblog
.
Og her et citat fra en
ZNet-artikel
, der viser lidt om, hvad det indebærer at USA bringer demokrati til ens land:
On January 24, 2003, National Guardsman Sean Baker, stationed as a military policeman at Guantánamo detention center, volunteered to be a mock prisoner, donning an orange suit and refusing to leave his cell as part of a training exercise. As planned, an Immediate Reaction Force team of MPs attempted to extract him from the cell. When he uttered the code word, "Red," indicating that this was a drill and that he'd had enough, one of the MPs "forced my head down against the steel floor and was sort of just grinding it into the floor.

"The individual then, when I picked up my head and said, 'Red,' slammed my head down against the floor," says Baker. "I was so afraid, I groaned out, 'I'm a U.S. soldier.' And when I said that, he slammed my head again, one more time against the floor. And I groaned out one more time, I said, 'I'm a U.S. soldier.' And I heard them say, 'Whoa, whoa, whoa.'" Even though, unlike if Baker had been a real prisoner, the "extraction" was called off part-way through, he was diagnosed with traumatic brain injury and was left with permanent injuries, including frequent epileptic-style seizures.

When asked what would have happened if he had been a real detainee, Baker told CBS's 60 Minutes: "I think they would have busted him up. I've seen detainees come outta there with blood on 'em. ...If there wasn't someone to say, 'I'm a U.S. soldier,' if you were speaking Arabic or Pashto or Urdu or some other language in the camp, we may never know what would have happened to that individual."
[ agger, Wed 18 Apr, :14:27: /politik] - kommentar(er) - link