São Paolo, Brasilien: Forbud mod reklamer i bybilledet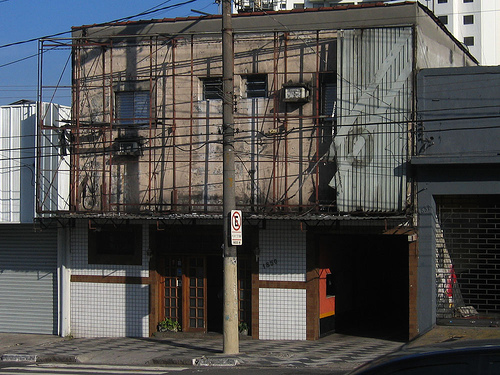 Et skridt i den rigtige retning: São Paolo forbyder de tidligere allestedsnærværende udendørs reklameplakater, denne visuelle forurening, der i alt for mange storbyer konstant hamrer kommercielle budskaber ind i de arme forbipasserendes hoveder.
Dette betyder, at byen i dag er præget af tusindvis af tomme rum, hvor reklamerne engang hang.
Internation Herald Tribune
skriver om beslutningen
:
This city of 11 million, overwhelmed by what the authorities call visual pollution, plans to press the "delete all" button and offer its residents unimpeded views of their surroundings.

But in proposing to transform the landscape, officials have unleashed debate and brought into conflict sharply differing concepts of what this city, South America's largest and most prosperous, should be.

City planners, architects and environmental advocates have argued enthusiastically that the prohibition, through a new "clean city" law, brings São Paulo a welcome step closer to an imagined urban ideal.

The law is "a rare victory of the public interest over private, of order over disorder, aesthetics over ugliness, of cleanliness over trash," Roberto Pompeu de Toledo, a columnist and author of a history of São Paulo, wrote in the weekly newsmagazine Veja. "For once in life, all that is accustomed to coming out on top in Brazil has lost."
Som sagt, jeg kan kun bifalde beslutningen - siden jeg først så. hvordan de sydeuropæiske byer og landskaber er plastret til med disse allestedsnærværende reklamer, har jeg anset dem for lidt af en plage; og de nuværende dårligt designede reklamefinansierede busstoppesteder, som vi plages med i f.eks. Århus, kunne gerne gå samme vej.
Og hvis det kan føre til en yderligere debat om, hvordan vi
så
gerne vil have, vores byer skal se ud (om ikke klistret til med reklamer overalt), kan det vel kun være godt.
Flickr-sæt
med reklamefri bygninger i São Paolo,
artikel
i International Herald Tribune - via
Boing Boing
.
[ agger, Sun 15 Apr, :22:40: /politik] - kommentar(er) - link