Soldat afslører tortur og seksuelt misbrug på Guantánamo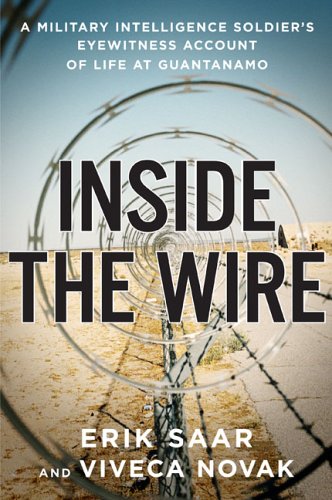 The Observer har i dag en
længere artikel
om Erik Saar, som arbejdede som tolk ved forhør på Guantánamo-bason på Cuba, og som nu har skrevet en bog om det chokerende omfang af tortur og seksuelt misbrug, der åbenbart er nødvendige i den verdensomspændende "kamp for demokratiet".
Om vore heltes utrættelige kamp for menneskerettigheder og fair play læser vi bl.a.:
Among the most shocking abuses Saar recalls is the use of sex in interrogation sessions. Some female interrogators stripped down to their underwear and rubbed themselves against their prisoners. Pornographic magazines and videos were also used as rewards for confessing.

In one session a female interrogator took off some of her clothes and smeared fake blood on a prisoner after telling him she was menstruating. 'That's a big deal. It is a major insult to one of the world's biggest religions where we are trying to win hearts and minds,' Saar said.

Saar also describes the 'snatch teams', known as the Initial Reaction Force (IRF), who remove unco-operative prisoners from their cells. He describes one such snatch where a prisoner's arm was broken. In a training session for an IRF team, one US soldier posing as a prisoner was beaten so badly that he suffered brain damage. It is believed the IRF team had not been told the 'detainee' was a soldier.
Saar mener i øvrigt - efter sine erfaringer som tolk under utallige forhør - at stort set alle tilbageholdte dér er uskyldige; enten, fordi de var almindelige (ofte tvangsudskrevne) "fodtusser" i talebanernes militser, eller fordi de ganske enkelt blev kidnappet og solgt til amerikanerne af røverbander eller lokale fjender.
Om de få virkeligt skyldige på basen håber han, at de kan ende med at blive dømt; men alt i alt kan denne koncentrationslejr kun være kontraproduktiv for amerikanerne:
The camp is a mistake. It does not need to be that way. There should be a better way, more in line with American morals.
[ agger, Sun 08 May, :08:40: /politik] - kommentar(er) - link