Sydlige Libanon, 15. juli 2006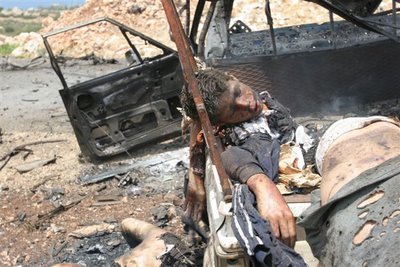 Citat
From Beirut to the Beltway
(min fremhævning):
Israel stepped up its attacks today to include central Beirut and a Lebanese army post in Batroun in the north, killing at least one Lebanese soldier and injuring three.

The bombing campaign also targeted Beirut's Manara area, specifically the lighthouse which is now completely destroyed. Beirut's port was also hit, and so were the ports of Jounieh and Tripoli.

Earlier today, Israeli planes bombed a van transporting women and children refugees in the south. Many were burnt alive. The refugees had been denied shelter at a UN compound.
Billeder via As'ad Abukhalil alias
Angry Arab
, som
forklarer
:
I have just received these pictures from Hanady Salman, an editor at As-Safir, with this message: "Dear friends and colleagues , You will all have to excuse me for sending this. It's pictures of the bodies of babies killed by the israelis in South lebanon. They are all burnt. I need your help. I am almost certain these pictures won't be published in the West, although they are associated press pictures. I need your help exposing them if you can. The problem is these are people who were asked to leave their village , Ter Hafra , this morning , within two hours , or else. ... So those who were able to flee went to the closer UN base where they were asked to leave. I think that after the Qana massacres in 1996 when civilians were bombed after they took chelter in UN headquarters , the UN does not want to be responssible for the lives of civilians ...
Og så ...
Lebanese Political Journal
supplerer:
We have no sympathy for Israel's position right now. None.

We have sympathy for the Israeli civilians being hit by Hezbollah bombs, but there is no justification for Israel's action. It's abusive. The United States did not hit civilians or civilian escape routes out of the country like this when invading either Afghanistan or Iraq.
Men det gør israelerne altså her - som man kan se herover.
Som
Citizen Dane
er inde på: Israel er nødt til at blive bedre til at hjælpe sig selv; som det er nu, gør de det ikke særligt godt.
[ agger, Sun 16 Jul, :00:37: /politik] - kommentar(er) - link