Tony Blair: En kyniker og trofast puddelhund takker af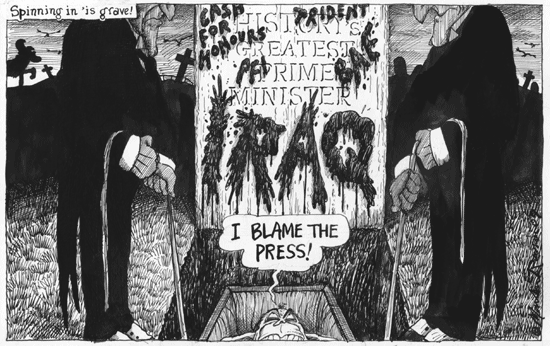 Billede af Martin Rowson fra
Tribune Cartoons
.
Tony Blair er, som det fremgår af tegningen, begyndt at beskylde pressen for sit dårlige eftermæle.
Samtidig tager
Yasmin Alibhai-Brown
bladet fra mundet i sin klumme i
The Independent
:
Tony Blair has been a disaster for progressive Britain, arguably even more so than Margaret Thatcher, the left's voodoo doll. She did much wrong, but a chorus of disapproving battlers always exposed her crimes. Blair got away with worse because fewer opposed him. For many years, those who should have held him back from his impulses and excesses were too in awe of his powerful image, too grateful to him personally for the New Labour victory, too susceptible to the charm he turned on with such alarming ease. And we - black and Asian Britons - genuflected even more humbly before this messiah come to deliver us from the horrid Tories ...

He has broken up our nation. Under his tent we squabble and terrorise each other. The divisions have deepened between black and white Britons; between peoples of various faiths, between them and atheists, the rich and poor, devolved nations, settled folk and migrants, children and society, the powerful and powerless citizens, town and country, the EU and us, the Middle East and us. Go on, add others to the list.

And then there is Iraq, our undying shame. The impenitent PM claims the illegal adventure would have been another jewel in his crown if only the post-war chaos had been better managed by the US. He claimed he had no choice. But he did. European nations did, and most chose to do the right thing. More than 700,000 Iraqis so far have been killed because our divinely inspired PM worships the US, had to punish Arabs - any Arabs - for the acts of 11 September, and still believes the massacred innocents on the killing fields of Iraq die for the best cause ever. That position has lost this country any moral authority in world affairs and left us looking deceitful and corrupt.
Hvilket desværre er så sandt, som det er sagt. Storbritanniens omdømme i verdens øjne er knust. Den eneste "troværdighed", Blair har tilbage er forvisningen om, at hans efterfølger om muligt bliver endnu værre.
[ agger, Mon 25 Jun, :10:27: /politik] - kommentar(er) - link