Tortur: Skeletterne vælter ud af skabet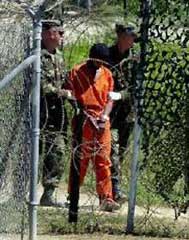 Amnesty International udsender nu endnu en rapport om forholdene for fanger på Guantánamo-basen,
læser vi i Politiken
:
Tortur, tæv og seksuelle overgreb præger hverdagen på Guantánamo-basen. Menneskeretsgruppen Amnesty fremlægger nye beskyldninger mod USA.
(...)
Tre indsatte har afgivet forklaringer, der stemmer overens med tidligere fangers beretninger om forholdene på basen.
Samtidig kan
The Observer
berette, at sultestrejkende fanger på Guantánamo konsekvent tvangsfodres - gennem næsen:
The procedure - now standard practice at Guantánamo - 'requires that a foreign body be inserted into the body and, ideally, remain in it.' But staff always use a lubricant, and 'a nasogastric tube is never inserted and moved up and down. It is inserted down into the stomach slowly and directly, and it would be impossible to insert the wrong end of the tube.' Medical personnel do not insert nasogastric tubes in a manner 'intentionally designed to inflict pain.'

It is painful, [commander of Guantánamo's hospital] Edmonson admits. Although 'non-narcotic pain relievers such as ibuprofen are usually sufficient, sometimes stronger drugs,' including opiates such as morphine, have had to be administered.
Læger, der medvirker til denne praksis, overtræder reelt deres lægeløfte og kan formentlig straffes,
læser vi videre
:
Article 5 of the 1975 World Medical Association Tokyo Declaration, which US doctors are legally bound to observe through their membership of the American Medical Association, states that doctors must not undertake force-feeding under any circumstances. Dr David Nicholl, a consultant neurologist at Queen Elizabeth's hospital in Birmingham, is co-ordinating opposition to the Guantánamo doctors' actions from the international medical community. 'If I were to do what Edmondson describes in his statement, I would be referred to the General Medical Council and charged with assault,' he said.
Men hvorfor høre på, hvad kompetente læger mener? Hvorfor kere sig om detaljer som menneskrettigheder, retsprincipper og almindelige omstændighed, når det er "krigen mod terror" - som vi tidligere har afsløret som et
rent fupnummer og påskud
- det gælder.
Det amerikanske militær har forlængst
forklaret
, at det, som foregår på Guantanamo ikke er tortur, men
kun mishandling
: Seksuelle overgreb, hundebid, tæv, ydmygelser, tvangsfodring gennem næsen:
Det er klart nok ikke tortur, kun mishandling. Og så er det jo helt i orden.
Det er kun nogle få forvirrede og uansvarlige venstreorienterede, som
Amnesty
,
Human Rights Watch
og blødsødne venstreorienterede politikere, f.eks. den
tyske kansler Angela Merkel
, der nogensinde kunne finde på at mene noget andet.
Ikke?
[ agger, Wed 11 Jan, :09:04: /politik] - kommentar(er) - link