Colony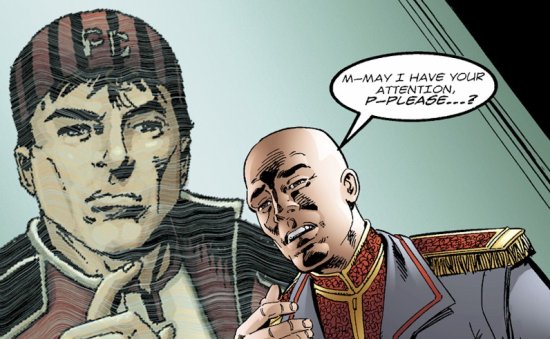 Colony
er en ny, gratis tegneserie som serieforfatteren
Bob Layton
er begyndt at lægge op på sin hjemmeside lidt efter lidt.
Serien er tegnet af
Dick Giordano
, hvis Neal Adams-påvirkede streg vil være bekendt af enhver læser af Interpresses superhelte-udgivelser fra 70erne og 80erne ...
Layton giver denne introduktion til seriens historie:
our lead character, Scott Landus, discovers the harsh realities of life in the 'ass end of the universe'--convicted to hard labor, without hope of parole, for a crime he did not commit.

Most who encounter Scott Landus think of him as a loser. However, the truth lies much deeper. Landus has a secret that he shares with no one. Scott suffers from an incurable genetic disease that will eventually take his life. Every male member of the Landus family has died while still relatively young. As a result of this, Scott Landus is the ultimate pragmatist. Without a cure and without much of a future to look forward to, Scott tends to be reckless, forming attachments to nothing and no one.

In 'Story One' of Colony, Landus begins to accept that fate and searches for something meaningful to him with his life with the little time he has left ...
Indtil videre er kun de første fem sider færdige, men det ser ret spændende ud - og hvis du vender tilbage til denne side om et års tid, skulle et klik på ovenstående link gerne føre dig til den færdige historie.
Via
The Crime in your Coffee
.
[ agger, Thu 15 Jun, :10:27: /tegneserier] - kommentar(er) - link