International Herald Tribune om fængslet ægyptisk blogger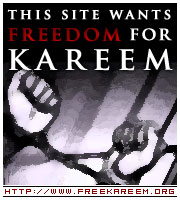 Internation Herald Tribune bringer en artikel om den
tidligere omtalte
ægyptiske blogger
Abdel Kareem Nabil Soliman
.
I artiklen
læser vi bl.a.
:
In a cramped jail cell in Alexandria, Egypt, sits a soft-spoken 22- year-old student. Kareem Amer was sent to prison for over a month for allegedly "defaming the president of Egypt" and "highlighting inappropriate aspects that harm the reputation of Egypt." Where did Amer commit these supposed felonies? On his weblog.
(...)
For decades, the region's dictators maintained a monopoly on public information. Newspapers, radio stations and television broadcasts were nearly all state owned. These regime- controlled media outlets toed the government line, maligned political opponents and blocked critical voices. By inverting the watchdog role of the press — in which journalists question, investigate and expose — what should be a critical independent institution was instead transformed into a mouthpiece for regime propaganda.

The advent of blogs in the past few years, however, has altered the playing field. While some regimes — like the Algerian leaders — may still own the main printing presses and control the national supply of ink, any citizen can access free blogging services. Now an individual's voice — even that of a random student at Al-Azhar University, like Kareem Amer — can reach audiences around the globe.

Regimes accustomed to control have struggled to respond. In Tunisia, a Web publisher, Zouhair Yahyaoui, was dragged from an Internet café by security forces and tortured into revealing his site's password after he posted a quiz mocking President Zine Abidine ben Ali. In Iran, authorities arrested a student, Mojtaba Saminejad, after he condemned the arrest of several fellow bloggers and "insulted the Supreme Leader." Daif Al-Ghazal, an investigative reporter for the Web journal Libya Al-Youm, was found murdered in Benghazi — his fingers cut off as a warning sign to anticorruption online writers.

Protecting free speech in the Middle East hinges on the fate of young activists like Kareem Amer.
Artiklen er skrevet af Jesse Sage, som er leder af Hamsaweb, og den ægyptiske menneskeretsaktivist Dalia Ziada, som vi
tidligere har citeret
her på siden.
Nærmere indlevelse i "retssikkerheden" i dét Ægypten, der som allieret med Danmark og USA af medierne som regel fremstilles som et fredeligt og nærmest demokratisk land, finder vi hos
Whisper of Madness
:
Many Egyptian Americans feel a sense of security when returning to Egypt because of the power an American passport holds with it. I can give you a dozen examples of how my passport allowed me to escape several forms of Police harassment. Like the time I was headed towards Sharm El Sheikh on a Coach bus. We arrived at a checkpoint where the officer in charge pulled 10-15 men including myself off the bus for "questioning" and told the bus driver to go on without us. I yelled to the bus driver to hold on one second because I would be on the bus shortly, he looked at me curiously but still waited. I turned to the officer and said, "listen I don't have time for this, would you like to see my identification?" When I showed him my American passport his face turned red and embarrassed and he quickly apologized and allowed all the men to return to the bus. I guess those guys owe me.

Mahmoud was not so lucky, the police found Kefaya related material in his wallet and quickly became agitated, by the time they found his American passport they didn't care where he was from, he could have been Prince Charles at that point. He was immediately blind folded, handcuffed and whisked away. When his blind fold was removed he found himself on the roof ledge of the police station handcuffed to another prisoner, the prisoner happened to be suicidal and severely obsessed with leaping off the edge and taking Mahmoud with him ...
Som den tidligere omtalte og ganske langvarige fængsling af
Alaa El-Fatah
, siger også denne kedelige ting om det ægyptiske regime - og om dé vestlige regeringer, der med USA i spidsen gladelig støtter det uden nogensinde at gøre væsen ud af "småting" som ytringsfrihed og den slags. Læs også:
Link
til
Kareems egen blog
(arabisk).
Link
til
Free Kareem!
-kampagneblog.
Link
til
underskriftsindsamling mod fængslingen
.
[ agger, Thu 28 Dec, :17:43: /politik] - kommentar(er) - link