Trailer: 3 Idiots
Denne her film må og skal jeg se. Ikke blot fordi den lyder særdeles lovende, men også fordi skuespillerne stort set er teamet fra den hårdtslående og nærgående
Rang De Basanti
, og produceren er Vinod Chopra, manden bag
Munna Bhai
-filmene og den lidt mindre prangende, men alligevel flotte
Eklavya
.
Da jeg ikke har set filmen endnu, giver jeg ordet videre til Xeni Jardin på Boing Boing:  
---
"The film is a cautionary moral tale about about aspiration at all costs, and a social commentary on India's educational system. The hacker-protagonist played by
Aamir Khan
preaches DIY tech education as an empowering journey to world-changing knowledge, not a shallow means to upwardly mobile ends.
Bollywood movies somehow manage to cram in more
sheer total stuff
than US pics. This one's no exception: there's a hot "wet sari" scene, a bathroom dance number with aerial toilet steadicam shots, a climax of of parental drama that involves comparison shopping between laptops and SLR cameras, an obviously fake rubber baby, and beautiful Himalayan scenery. Blogs, webcams, and aerial surveillance drones glide effortlessly through the script. Not once, but twice, a homemade penis-electrocution hardware hack serves for comic (and bladder) relief.
If you're reading this and you speak Hindi, none of this is news: by various metrics,
Idiots
was the most-anticipated (and is now the most-successful) Indian film in some time. But for Bollywood noobs, I can think of no better first door to open. The film is in Hindi and English, with English subtitles. Yes, you'll miss out on some of the layered humor in the film's ample Hindi puns, but there's so much else going on you'll be fine.
Producer Vinod Chopra reportedly plans
to make the entire film available for download and viewing online, for free, this March.
---
Wow. Må snart til at ud i
Bazar Vest
og se, om de har fået den.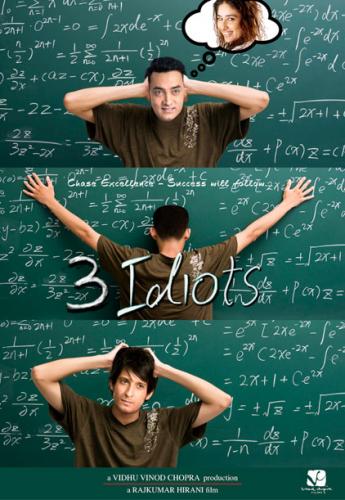 [ agger, Tue 05 Jan, :19:41: /film] - kommentar(er) - link